The Open University of Indonesia (UT) is becoming increasingly popular among high school graduates as evidenced by the increasing number enrolling in the open and distant learning education institution over the last few years.
Speaking on the sidelines of a three-day conference of the Asian Association of Open Universities (AAOU) in Yogyakarta this week, UT Rector Ojat Darojat said that high school graduates currently accounted for about 10 percent of the total number of UT students.
"Our market segment has changed. It switches from teachers doing their in-service training to high school graduates wanting to continue their studies," Ojat told reporters on Wednesday.
He said UT's high level of computer and internet literacy had attracted more high school graduates to make UT their choice to further their studies.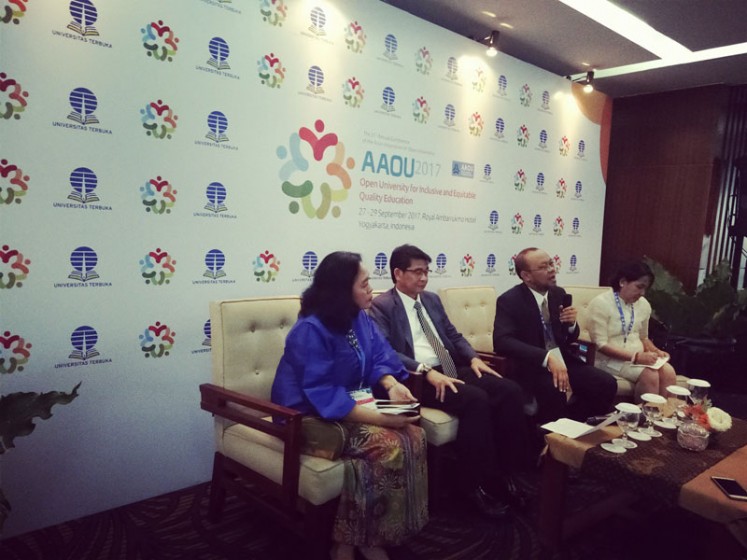 UT, said Ojat, currently has about 300,000 students including 2,000 who access its education services from abroad, spread across 23 countries. Since being established as the 45th state-owned university in Indonesia, UT has capped about 1.6 million students. Among the noted UT alumni are former First Lady Ani Yudhoyono, former head of National Intelligence Agency AM Hendropriyono and Linda Agum Gumelar.
Ojat said that in its early existence, many of UT's students were aged 30 years and up, who worked and were married. In 2010, 600,000 students were enrolled at UT thanks to Law No 14/2005 on the national education system that required teachers to have an undergraduate degree.
"The number in this segment, which we call immigrant natives, is gradually decreasing while digital natives are steadily increasing," Ojat said, adding that UT was now focusing on targeting more high school graduates.
UT's learning activity comprises 50 percent of online and face-to-face tutorials, each made up of eight sessions. "This is a blended activity, a mixture between online and face-to-face tutorials using the prepared learning materials," he said.
For the face-to-face tutorials UT has established long distant program units (UPBJJ) in 34 provinces and at Indonesian embassies and consulate generals in 23 countries.
Ojat said face-to-face tutorials, including classroom activities and exercises, were mostly aimed to cover soft skill activities, academic interactions as well as co-curricular and extra-curricular activities.
For online tutorials, especially for the discussion forum, Ojat said the university had developed it using concepts to make sure that the social, cognitive and teaching presences were there during the forum.
"That way, the student will not feel lonely when joining an online discussion forum because even though they might be located far from each other they are still connected through the forum," he said.
He added that UT the government designed it differently from conventional universities. It excessively made use of developments in the field of information and communication technology to allow students to conduct all activities including enrollment, learning and examinations online through the internet for free. All learning materials could be accessed this way as well.
UT is currently offering 39 study programs at its four faculties: teacher training and education science; law, political and social sciences; mathematics and natural sciences; economy and post graduate programs. (Source: TJP)
Universitas Terbuka
Address: Jalan Cabe Raya, Pondok Cabe, Pamulang, Tangerang Selatan 15418, Banten – Indonesia
Phone: (021) 1500024 (Contact Center)
Phone: (021) 7490941 (Hunting)
Fax: (021) 80639011 (Contact Center)
SMS: 08119050024
Email: hallo-ut@ut.ac.id (Contact Center)
Website: http://www.ut.ac.id/
628 total views, 3 views today