Life is good for Mahyudin Pasaribu. He now spends more time with his family and worries less about how he will fund his children's education, even as he cuts back on the time he spends working.
"In the past, I would only spend time with them once a week because I would spend most of my time in the forest. Now, I can go home every day and I have a fixed source of income, said the 43-year-old from Pangkalan Kerinci, Pelalawan regency, in Riau, Sumatra.
It wasn't always this way. As an illegal logger felling trees in the forests in Pelalawan regency, life was uncertain and irregular income meant he could barely make ends meet. That was more than a decade ago, when he graduated with limited skills from high school in 1993 and followed others into the forest to make a living.
"At the time, illegal logging was not an issue and wasn't prohibited. We made money through felling trees, cutting rattan and collecting other forest products. Cutting logs was seasonal and only when there was a tauke[collector] interested in buying. If there was no buyer, we looked for fish instead," Mahyudin said.
It was a precarious existence. "The money from selling logs was quite good. It could reach Rp100 million, but this would happen only once every three months. The money was then divided with others in the team of about 20 people."
"But I didn't know how to manage money. Whenever there was extra money, I'd spend it on unnecessary things," he recalled.
With stricter enforcement in 2002, Mahyudin and his peers found it more difficult to make money, as it became harder to extract logs from the forest. With no other skills, he found it difficult to find other work.
Then in 2004, he was arrested while collecting logs near the border of a concession area owned by PT Riau Andalan Pulp and Paper (RAPP). He was jailed for three weeks by the Center for Natural Resources Conservation (BBKSDA) of Riau Islands province in Pekanbaru.
Partnership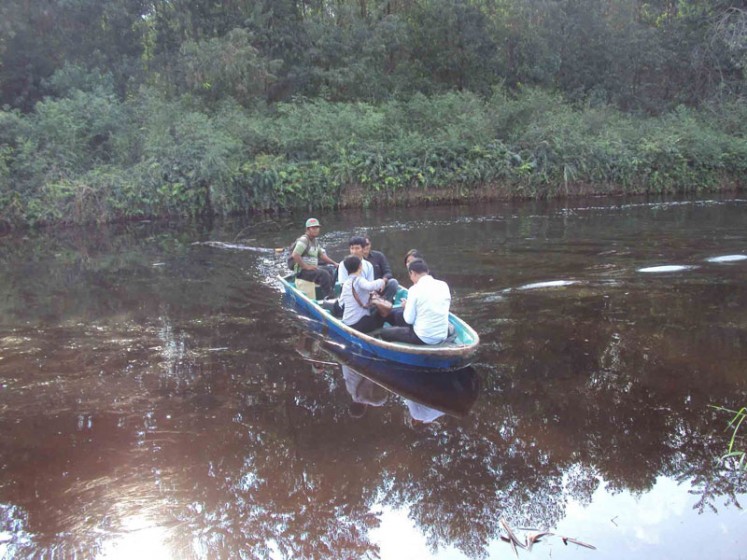 After he was released from jail in 2005, Mahyudin went to RAPP to ask for work. He said he was willing to do anything to make money for his family and did not want to return to illegal logging. "I told them that I did not want to take wood illegally, but that I had resorted to that because I needed to feed my family".
Mahyudin offered to operate a transportation service along the company's canal even though he didn't have a motorboat. "I got the idea after seeing many pompong boats carrying the company's logs along the canal. Motor vehicles can only use the access road to get into the concession area, so people took a boat along the canal as an alternative. This looked like a job I could do as I was comfortable working on the river. So, I saw a mutual need between me and RAPP."
Even though Mahyudin didn't have any practical experience running a river transport business, his offer received positive response from RAPP. He immediately asked five of his neighbors who owned boats if they were willing to be operators, with Mahyudin as their coordinator. "I was then entrusted with operating five pompong boats. It was a sort of trial run," he said.
At the beginning, it was not easy following the company's tight schedule and discipline. "Before this, no one was managing my life or that of my friends. We worked at our own pace, as long as there was money at the end of the day," he added.
"I had to work at the company's pace and keep up with its financial discipline. The company required that we interact with the bank, which was overwhelming at first because we only knew how to deal with the tauke. But I was confident that this new venture would bring me enough income to help me feed my family. My friends and I worked hard so that we would win the company's trust," he said.
Since the law requires RAPP to partner with a legal entity, Mahyudin established CV Mitra Pelalawan Setia and contracted the pompong boat owners as its employees. "Years went by, and by 2012 the company had grown. What had been a company with five pompong boats had now developed into one with assets consisting of 15 PK speedboats, 28 pompong boats and two cars," he said.
Today, the company employs 47 people and its assets are leased to RAPP and the company uses his vehicles to transport employees, seedlings and fertilizer to the work area around the Pelalawan Estate, with a contract value of about Rp250 million monthly. "After operational costs, the gross income is around Rp50 million monthly," he added.
Mahyudin is grateful for being able to partner with RAPP, saying that it has completely changed his life. He now has his own house, five cars, an excavator and 30 hectares of plantation land on which he is preparing palm oil. "I'd never imagine my life would be this comfortable. In the past, I didn't know where the next day's source of income would come from. Today, I have a steady income," he said.
Even though he is now successful, he hasn't stopped attending training programs organized by RAPP. This includes management training, forest fires anticipation training and entrepreneur enforcement training. "I have learned a lot. With this sort of training, the benefit lasts longer because we learn to think far ahead, not just for today."
"If given a chance, I'll continue to develop my business into areas like heavy equipment rental. If anyone is thinking of clearing their plot of land by burning, I will step in to offer my heavy equipment to help in land clearing and the owner can pay the rent through monthly installments. Many are interested in this offer".
"Now, my heavy equipment is being used to clear the owners' lands. This has replaced the slash-and-burn method people are used to. On top of helping to prevent forest fires, I get income from renting my excavator," he said.
RAPP's community development manager, Marzum, says that while RAPP is capable of operating its own water transportation, supporting small business is consistent with the company's desire to grow and move forward with the community.
Marzum said: "One way to do this is by establishing partnerships, so the community around the company's operational site also grows. It is about empowerment. We don't facilitate our partners. We train and guide them to meet the requirements for new ventures".
Today, 12 local businesses have partnered with RAPP at its Pelalawan Estate said Marzum. "The requirements are simple: They need to be determined, able to work with others and never stop learning. Currently, all RAPP-mentored partners at our Pelalawan Estate are successful," he added.
"Mahyudin is an example of how partnership can transform people's lives for the better. We're proud to have had a role in helping people to participate as active members of the local community. We encourage our partners to run profitable businesses and to share their success with others in the community." (TheJakartaPost.com)
502 total views, 2 views today